The Original Tour
Réservez vos billet de bus hop on/ hop off pour la Visite Originale (Original tour), c'est la façon la plus simple et la plus agréable de visiter Londres, en haut d'un bus rouge londonien, ouvert.

Les billets seront envoyés à votre adresse e-mail après avoir complété votre réservation.

Nos billets sont valables pendant 24 heures, à partir du moment où vous commencez à l'utiliser, vous pouvez donc décider du moment où vous montez dans un autre bus et où vous descendez du bus pour explorer Londres. Avec 4 lignes, et plus de 90 arrêts, vous pouvez couvrir la quasi-totalité de Londres à votre propre rythme quand vous le voulez et où vous le voulez. Vous pouvez bénéficier d'un guide en anglais dans chaque bus, soit 'en personne', ou par oreillette. Le plus souvent la visite guidée est en anglais. Le billet comprend aussi une excursion en bateau sur la Tamise. Ce bateau relie régulièrement Westminster à Greenwich. (S'il vous plaît demander à un représentant de The Original Tour de votre billet de bateau lorsque vous vous procurer des billets Tour à l'un des points d'échange Le Tour originale)

Veuillez noter que les billets (billets à échanger) que nous vous avons envoyés doivent être échangés à l'un des points d'échange ci-dessous. Vous pouvez d'ailleurs, commencer votre visite hop on/hop off de Londres à partir de l'un de ces points d'échange:

1) Le centre des visiteurs du tour original (Original Tour Visitor Centre) à Trafalgar Square : 17 - 19 Cockspur Street.

2) Marble Arch : Au Métro sortie 3

3) Piccadilly Circus : Sur Whitcomb Street

4) Victoria : devant l'Hôtel Grosvenor

Veuillez ne pas oublier que la personne ayant réservé doit présenter une pièce d'identité avec photo (exemple, passeport) pour pouvoir récupérer les billets de la visite chez 'The Original Tour'!

Choisissez comme début de date de validité sur vos billets votre date d'arrivée à Londres car les billets que vous achetez chez nous sont valables 1 mois à compter de la date 'Valable à partir du' de votre choix. Choisissez le nombre de billets et cliquez sur 'RECHERCHER '. Puis vous choisissez billet 'Adulte' ou 'Enfant' (de 5-15 ans). Les enfants de moins de 5 ans voyagent gratuitement s'ils sont accompagnés d'un adulte. Ensuite, si vous le désirez, vous pouvez réserver des billets pour d'autres attractions ou des moyens de transports.

1
Fantastique
5.0
Reviews from 1 customer reviews
GENIAL !!!
UNE EXCELLENTE FAÇON DE DECOUVRIR LA CAPITALE ANGLAISE.
BRAVO !!!
The Original Tour Commentaires des clients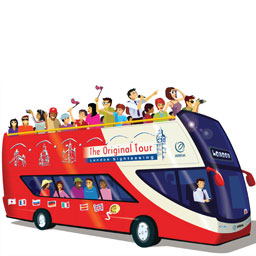 Info
The Original Tour
Adresse
Click here for route map


Regardez la carte
Heures d'ouverture
Les premières visites par bus commencent à 8h30 et se terminent à 20h00. Pendant l'hiver, le dernier bus part à 17h00.