Charité Ticmate
Est-il possible de gérer une entreprise qui gagne de l'argent tout en contribuant à rendre le monde un peu meilleur ? Nous pensons que oui. C'est pourquoi nous avons créé Charité Ticmate.
Avec Ticmate, nous nous engageons à enrichir la vie des gens au travers de l'information et de l'accès à des événements internationaux. Nous voulons promouvoir une entreprise socialement responsable qui crée de la valeur pour nos clients, nos employés, nos fournisseurs et nos actionnaires. En 2019, nous avons 27 employés, équivalent à 18 personnes à temps plein. Nous voulons aussi assumer une responsabilité sociale et œuvrer pour un monde meilleur et plus chaleureux - nous donnons ainsi chaque année 10% de nos bénéfices à Médecin Sans Frontières.
Depuis 2009, nous avons donné 2 553 500 Couronnes Suédoises à des associations caritatives.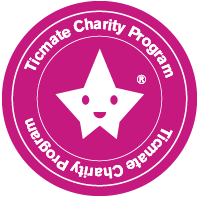 Médecins Sans Frontières
MSF est une organisation médicale humanitaire qui sauve des vies et soulage la détresse là où cela est le plus nécessaire. Ils aident les personnes touchées par les crises, les guerres et les catastrophes naturelles, quelle que soit leurs opinions politiques, leur religion ou leur origine ethnique.
Chez Ticmate, nous les aidons dans leur travail et depuis 2011 nous avons fait don d'un total de 2 123 686 Couronnes Suédoises.

> Entre 2015 et 2018 nous avons fait don de 1 040 000 Couronnes Suedoises à MSF afin d'aider les réfugiés du monde entier.
En Septembre 2014, nous avons donné 450 000 Couronnes Suédoise à la République Centrafricaine afin de combattre Ebola.
En 2013 nous avons fait don de 200 000 Couronnes Suédoises pour aider MSF en Syrie.
Entre 2011 et 2012 nous avons fait don de 363 500 Couronnes Suédoises dont 70 186 à Médecin Sans Frontières.

"On behalf of MSF I would like to thank you all at Ticmate for your hard work which resulted in a generous gift to our work with Ebola and our projects the Central African Republic. We are really impressed by and thankful for your commitment to our organisation and the work we do."
-Katharina Ervanius, 'Médecins Sans Frontières'


Apprenez ici comment travaille Médecins Sans Frontières.